Welcome to Goenka Hospital
Goenka Hospital is having ultramodern infrastructure with state of art facilities, equipments, trained, educated and dedicated medical and paramedical staff. Hospital is equipped to cater all kind of medical, surgical and accidental emergencies.

Hospital has total  four OT out of them two major Operation Theatre with laminar air flow, 5 para monitor, imported OT light and Table with all attachments.
CENTER OF EXCELLENCE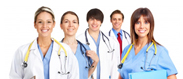 What People Say

Patient Info