Pharmacy
Home / Center of Excellence / Patient Info / Pharmacy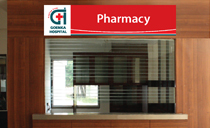 All your medicine needs are taken care of at our day and night chemist shop. Right from rare drugs to surgical material, this shop stocks them all. Stringent quality control ensures that medicines at the shop are completely updated and are of the highest quality.

We provide a wide range of pharmacy, surgical, disposables, anti-cancer, life saving and general healthcare products and nutritional supplements.

Our priority is to stock an entire range of pharmaceutical and medical products, and delivering them efficiently to our customers. Our back up facility helps us serve our customers with critical medicines. The vast pharmacy network enables us to provide medicine support to our customers even when they are on move for their treatments.